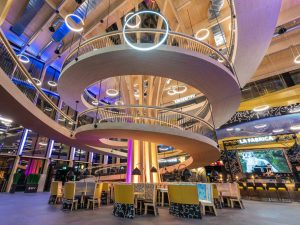 In the heart of Y-Parc, no less than 50 stores are at your disposal. This new center, which contributes to the development of Yverdon-les-Bains and beyond the region, offers a global offer for its residents and visitors. This vision redefines life in the public space by combining business centers, gastronomy and a space of promotion, development, innovation and solutions for small and medium enterprises.

Since summer 2021, employees at Coffee Island have been assisted by Orea, a Bring Me robot.
Another Bring Me robot, supports the employees in the new restaurant Biotope. The robots help with repetitive tasks and long walks.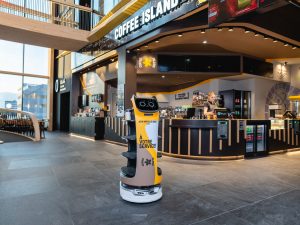 At Coffee Island in Yverdon, the barista is already assisted by Orea. In the spacious café, the robot Orea brings food and drinks. Guests can place their order via a QR code on the table. This is immediately forwarded to the barista. As soon as the order is ready, Orea comes into action. The food is placed on the robot and the robot is sent on its way. Once at the table, guests can take their order. At the push of a button, the robot is sent back and is ready for the next orders.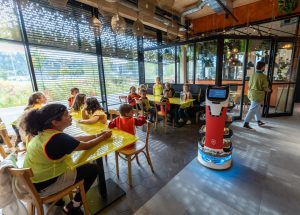 Topia is in operation at the newly opened Biotop restaurant in Explorit. Topia supports the service in the à la carte business. Tables with more than three guests can be served by one employee. The robot helps with serving and clearing away. Topia stands ready next to the kitchen and waits for the food. When the tables are cleared, Topia drives directly to the laundry room, fully loaded. An employee is already waiting there. After the robot has been cleared, it is sent back to the starting point next to the kitchen and is ready for the next job.