Basic Information
Pepper is the first personal and emotional humanoid robot designed by SoftBank Robotics capable of recognising the principal human emotions and adapting his behaviour to the mood of his interlocutor. Pepper is a social robot able to converse with you, recognise your face and react to your emotions, move and live autonomously.
Key Features
Advanced language recognition skills
The four directional microphones located on Pepper's head allow it to detect where sounds are coming from and locate your position, as well as identifying the emotions in your voice. Pepper can engage in conversations, and can incorporate information it has gleaned from the conversation into what it says
Facial recognition and face tracking
The images it sees are processed by shape recognition software that is capable of identifying faces and objects. It can detect movements, as well as recognising emotions on your face.
Tablet for visual presentations and tactile feedback
This can be used to make choices, as well as to delight, entertain and inform.
Technical Infomations
Dimensions:

height: 120 cm
depth: 42.50 cm
width: 48.50 cm

Weight: 28 kg
Battery:

Type: Lithium-ion battery
Capacity: 30.0 Ah / 795 Wh
Battery life: approx. 12 hours

Interaction sensors:

4 microphones
2 RGB HD cameras (mouth and forehead)
5 tactile sensors (3 in the head and 2 on the back of the hands)

Motion sensors:

1 3D camera behind the eyes for depth and detection of movements and obstacles
In the legs: 2 sonar, 6 laser, a gyro sensor

Locomotion: 3 all direction wheels (Maximum speed 5 km/h)
Degrees of freedom of the joints: head: 2, shoulders: 2, elbows: 2, wrists: 1, hands (5 fingers): 1, waist: 2, knees: 1, base: 3
Operating system: Android
Display: Tablet 10.1 inch
Network: Wi-Fi (IEEE 802.11a/b/g/n)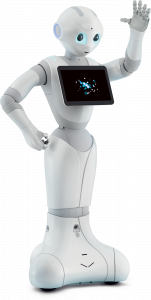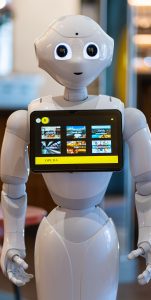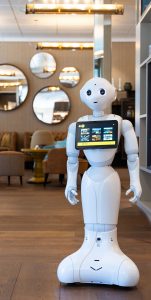 Basic Information
Designed by UBTECH Robotics, Cruzr is a cloud-based business robot. It offers multiple customer service-oriented features like autonomous navigation, chatbot integrations and IoT connection. With its wide range of functionalities, Cruzr can work in various industries, such as retail, banking, tourism, hospitality, transportation, healthcare and services und offers a rich, smart and efficient interactions with the end users.
Key Features
Localization and Mapping
The Cruzr Robot includes the SLAM (simultaneous location and mapping) proprietary software from UBTECH that uses real-time positioning and mapping to avoid obstacles. From the software, you can easily preset a navigation, a bifurcation or set specific points of interest. Cruzr is able to function in complex environments thanks to his depth-perception camera, Lidar and IR sensors that enable him to navigate autonomously.
360°Movements
Cruzr uses abrasion resistant and quiet omni-directional wheels to move smoothly and stable, while being able to turn in any direction instantly.
Automatic Recharging
Stable and accurate charging stock location, low power consuming. Multiple charging methods: Directive recharging, Pre-set recharging, Automatic recharging.
Technical Informations
Dimensions: 1195 x 521 x 516 mm
Weight: 45 kg
Colour: white, silver
Materials: plastic, metal
Battery: 20 Ah 24V
Touchscreen:6-inch
Camera: 13MP HD (photo), 1080p (video)
Audio: Two-channel stereo speaker, 3×2 inch, 2x6W output
Sensors:

6+0 MIC array in head
1 depth-perception camera in waist
1 Lidar sensor, 6 sonar sensors
12 infrared sensors
1 9-axis IMU in chassis

Degrees of freedom:

Head: 1 DoF
Arms: 5 DoF per arm
Hands: 1 DoF per hand
Waist: 1 DoF

3 omnidirectional wheels
OS: Android and ROS
Velocity: 0.3 m/s (normal speed); 1 m/s (maximum speed)
Network: WiFi 2.4G/5G
Accessories: 1 recharging dock,1 flight-case, 1 power adapter, 1 user manual